Sopopular men's wear FW15/16 'Revolution Noire'
...was presented on the first day of Mercedes-Benz Fashion Week Berlin. Dark notes in blacks and greys, shiny surfaces...

Evening gowns for winter, spring and summer dance events ...at the couture salon 'Runway Vienna' such as dresses by 'Designer of the Year 2014' Eva Poleschinski...

Collier Schorr's Formula 1 inspired fashion film 'Champions of Fashion' with Mercedes Formula One drivers Lewis Hamilton, Nico Rosberg and model Dree Hemingway...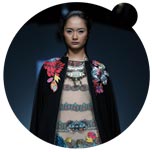 Runway views from Jakarta Fashion Week 2015 One of the most impressing collections is the one by Mel Ahyar. It consists of cocktail, evening dresses and jackets; last mentioned...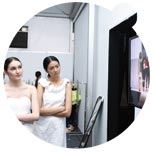 Backstage views from Jakarta Fashion Week 2015 Jakarta Fashion Week 2015 was started with the 'Indonesia Fashion Forward' shows of new collections by...

International illustrators are covering Russia Fashion Week JaeSuk Kim (based in Sydney and Seoul) is one of them. His gracile, sunlight flooded sketches are Fashionoffice's favorites...