25 September 2017

Highlights Spring/Summer 2018 seen at Madrid Fashion Week: Gusto Barcelona and Célia Valverde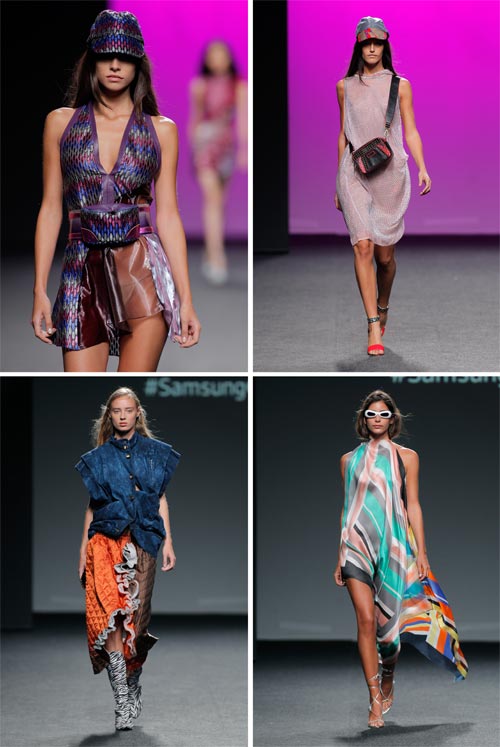 While the days are getting colder in Middle Europe, the new Spring/Summer 2018 collections are and were presented in Milan, London, New York or Madrid where internationally active Spanish labels like Custo Barcelona or the country's emerging talents such as Célia Valverde made lust for the beach and Mediterranean islands.
From 14 to 19 September, 47 brands and creators participated in the 66th edition of Mercedes-Benz Fashion Week in Madrid; Spain's largest fashion event was attended by more than 53,200 people. It's announced that the next edition of MBFWMadrid will be held from 25 to 29 January 2018.

fig. from above: The two pictures right on top show items of the 'Call me Tomorrow' SS18 collection by Custo Barcelona (video). The collection is made of technological fabrics and designed with futuristc-experimental touch. The outfit's short skirt (left) is partly transparent and opens the view to the bikini. The dress (right) is made of a fabric which reminds a fishing net.

Two images below: Views at Célia Valverde at the Samsung Ego catwalk of emerging designers (video). Célia Valverde started in 2014; in 2017, she is named at Vogue's Who's On Next list.) The image left shows a denim-blue sleeveless jacket worn with quilted skirt. Image right: Cocktail dress with the appeal of an exclusively styled beach pareo.
Photos: (C) IFEMA / UGO CAMERA.


more confashion>