16 September 2016

Nail art by CND for politically inspired Libertine SS17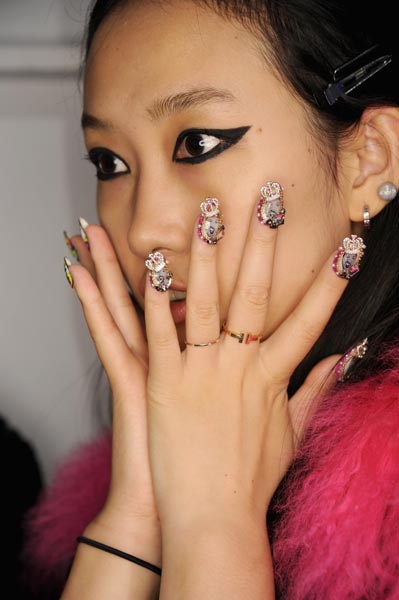 The portrait of Libertine designer Johnson Hartig with crown on nails? Billboard and Hollywood Reporter's 'Pret-a-Reporter' asked Libertine designer Johnson Hartig about his fashion collection which was presented with nail art by CND (Creative Nail Design) recently in New York. Both labels are from California; CND (founded 1979) is based in San Diego, Libertine (launched 2001) in Los Angeles. The 1970/80s British punk-rock style of Libertine's Spring/Summer 2017 fashion transports very actual US-American content and as Hartig explained Pret-a-Reporter backstage after the show, the Spring/Summer 2017 'We Hate Everything' collection is inspired by the current political situation concerning the presidential election and that "...no one is talking about the environment, and our world is overheating..."
Libertine SS2017 presents faces of personalities like US scientist (linguistics), government critic and activist Noam Chomsky. According to Pret-a-Reporter, Chomsky is Libertine designer Johnson Hartig's favorite celebrity figure to dress.
fig.: Backstage image of a model wearing nail art by CND designed for the Libertine Spring/Summer 2017 show during New York Fashion Week on 12 September 2016 in New York City. Photo by Jennifer Graylock/Getty Images for CND; (C) 2016 Getty Images.
CND Co-founder and Style Director Jan Arnold said about the collaboration: "In this fifth season creating together, it was no surprise that Johnson's artistic vision was perfectly in line with our CND trend story. Spring 2017 channels a retro futurist spirit, paying homage to iconic style with an edgy twist, and that's exactly what we sent down the runway tonight."
More images of the handcrafted nail looks and video about the making-of CND for Libertine SS2017 at the brand's Fashion Week Digital Headquarters on cnd.com.