22 April 2017

Upcoming fashion shows of the Assembly Designfestival Graz happen at architectural landmarks of Austria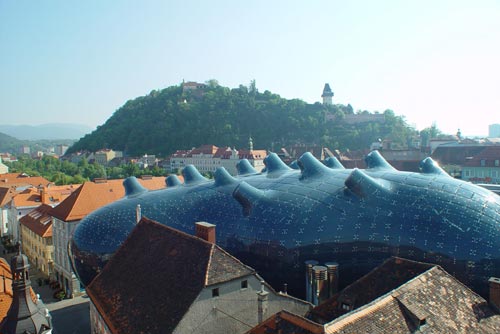 From 5 to 7 May, the annual Assembly Designfestival will present collections by European design labels at architectural landmarks at Graz, the capital city of the Austrian province Styria. Graz is the second largest city of Austria and was in 2003 the 'Cultural Capital of Europe'. In the same year in 2003, the 'Friendly Alien' such as the building of Kunsthaus Graz (image right) by the architects Peter Cook and Colin Fournier is named, and the Mur Island (image below) by Vito Acconci opened their doors. For Assembly, it's the first time that the festival's opening show will be held inside Kunsthaus Graz where currently the exhibition of works by Erwin Wurm is ongoing. One of the artworks is a huge 40 meters long woolen pullover named 'Space Sweater' (original title 'Weltraumschwitzer') which questions if in our world only the powerful matters, such as it is explained (source: Kunsthaus Graz).
It's announced that the pullover will become part of the staging of the show by eleven design labels from the European countries Spain, Czech Republic, Serbia, Hungary, Bulgaria and Austria.
fig. above: The opening fashion show of the Assembly Designfestival will happen on 5 May at Kunsthaus Graz (program). Photo: (C) Zepp Cam.
fig. below: On the second day (6th May), eight labels like Camou from Hungary (designer Beatrix Fehér applies pictures of nature and streets via screen printing on fabrics) or the Austrian pioneer of recycling Km/a will be participants of the Street Fashion Show at the Mur Island. Photo of Mur Island: (C) Harry Schiffer.
The list of designers is published on assembly-festival.at/en/designer/.