3 October 2015

The motif of a Mexican luchador with peaceful flower in his hand seen on Markus Lupfer bomber jacket for SS16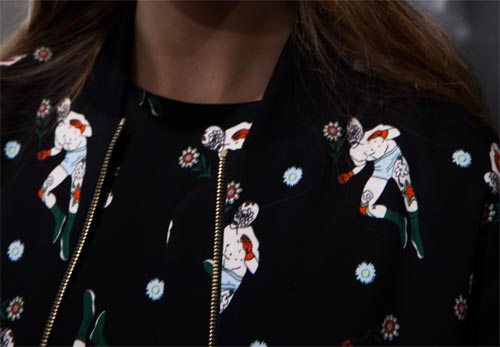 'Luchador' is the Spanish term for 'wrestler' and is used mainly in Mexico. The wrestler with his signature mask appears with peaceful flower in his hand on items of German-born in London based designer Markus Lupfer's new Spring/Summer 2016 collection which was presented on 19 September 2015 during London Fashion Week. Well, that was not yesterday and magazines like Vogue or Fashionising have already publshed their articles on the same day of the presentation or soon afterwards; but the luchador with his peace or love flower is such a nice theme that it's worth to throw a closer view on it. Great motif! The Mexican luchador is embroidered on lace t-shirts or printed on fabrics such as on view at the bomber jacket on this page. The picture below shows Markus Lupfer with models wearing the new Spring/Summer 2016 items.
Photos: Markus Lupfer Spring/Summer 2016 presentation during London Fashion Week on 19 September 2015. More images are posted via Facebook such as the depiction of another highlight of the collection: the organza bomber embroidered with flowers.