24 July 2016

13 designers created 3D-printed fashion for Lexus x Voxelworld show at Platform Fashion Düsseldorf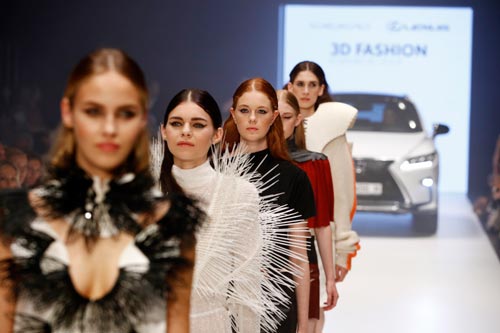 Yesterday on 23 July at Platform Fashion in Düsseldorf (Germany), 3D-printed fashion by 13 designers from US, Asia, Europe (names with portrait photos at the embedded Facebook post below) was presented at the '3D Fashion' show which was organzed by Voxelworld (online shop for 3D-printed design products) with the support of Japanese car maker Lexus. The show promotes the idea of resource-saving production on demand and is contributed to a new fashion design process which can be actively co-created by consumers.
Voxelworld was founded last year in July and offers lifestyle pieces from home & decor over jewellery to art pieces like the sandal 'Divine Intervention'. Some of the designs can be customized via online configurator (colors, size, writings...). The Voxelworld 'Fashion' category is currently in preparation and there is no closer information provided when the first fashion products will appear here. Voxelworld publishes on Facebook images of the designers' works such as the sculptural top by Behnaz Farahi or Sabina Saga's 3D-couture.
fig.: Models walk the runway at the '3D Fashion Show presented by Lexus and Voxelworld' during Platform Fashion 2016 at Areal Böhler on 23 July 2016 in Düsseldorf, Germany. Photo by Andreas Rentz/Getty Images for Platform Fashion; (C) 2016 Getty Images.