7 July 2015

Lena Hoschek's easy-going glam chic SS16 is inspired by the French Provence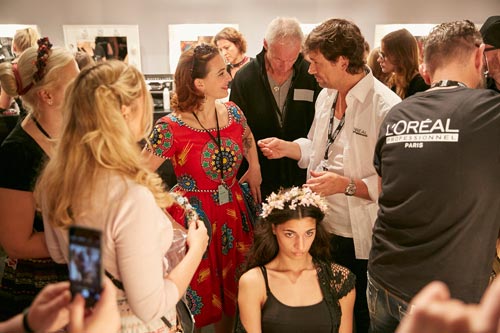 Today, Austrian label Lena Hoschek presented the new Spring/Summer 2016 collection 'En Provence' during Mercedes-Benz Fashion Week Berlin.
fig.: Designer Lena Hoschek (in red dress) backstage with the show team. Photo: (C) Nicholas Beutler.
The label is known for very feminine fashion with figure-enhancing cuts and fabrics with theme-related and nature-inspired prints. Even for this collection, Lena Hoschek elaborated from authentic archive material - this time about the French textile culture and especially the tradition of the Provence, new fabrics and patterns in a style which revives the French easy-going glamour of actresses like Romy Schneider or Jane Birkin. The dresses range from day wear over cocktail dresses to evening gowns. The names of the dresses like 'Plaisir', 'Rendezvous' or 'Paradis' and the floral, figural prints (such as blossom designs, image left, and Toile de Jouy fabrics, picture right) reference the heritage, the rich agriculture and lifestyle of the French Provence.
fig.: Models on the runway at the Lena Hoschek Spring/Summer 2016 show during Mercedes-Benz Fashion Week Berlin at Brandenburg Gate on 7 July 2015 in Berlin, Germany. Photos: Frazer Harrison; (C) 2015 Getty Images.
Lena Hoschek collaborated for the accessories with several labels; on view on the photos: retro radio case by Roberts Revival Radio (left); the sun hat is a special creation for the 'En Provence' collection by Mühlbauer (right).