10 September 2015

Trailer with Marina Abramović for the Givenchy SS16 performance during New York Fashion Week
Several hours ago, Givenchy posted the trailer for the upcoming show of the Spring/Summer 2016 collection during New York Fashion Week on 11 September (embedded below). At the trailer, performance artist Marina Abramović speaks about the idea of Artistic Director Riccardo Tisci's Givenchy SS16 presentation which is about love and peace. She closes her speech by pointing out that peace can only be achieved by practicing forgiveness which means not to forget the past but to keep up the memory for the future. The upcoming performance about love, peace, freedom, humility and spirituality for Riccardo Tisci's work was created in collaboration with Marina Abramović.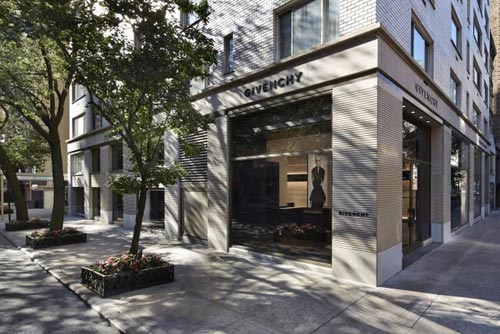 For one season only, Givenchy will premiere a collection not in Paris but for the first time ever in New York - as homage to the city and the country. It's announced that the next Fall/Winter 2016 will debut in Paris again.
In Riccardo Tisci's 10th year as Artistic Director of Givenchy, he celebrates with this performance the trans-Atlantic connection as well as the label's new 3,700 square meters flagship store on Madison Avenue (photo right).
The SS16 performance will be streamed live via large screens from Times Square to the Lower East Side. Trucks with LED-screens will be part of a Social Media campaign for the live stream. Additionally, images provided via the website givenchy.com will be on view on Times Square. The live stream is available on givenchy.com.




more confashion>