11 September 2015

What's so special at fashion shows of the mid-2010ies compared to the mid-1990ies? Seen at the Desigual SS16 catwalk during New York Fashion Week
The question could also be "What has changed catwalk presentations during the last 20 years?" The presentation of the new Desigual Spring/Summer 2016 collection 'Learn' is a good example. The urban styled pieces in 80ies New Wave neon and signal colors in combination with cool denim and lots of knits happened yesterday during New York Fashion Week.
The most significant change of fashion shows of the mid-2010s in comparison to the mid-1990s is the technological equipment of the fashion circus for live streams (Desigual streamed yesterday live via Periscope app and via its website) and the accompanying digital communication which happens via various social media channels such as in the case of Desigual Snapchat, Facebook or Instagram. The techniques have changed the staging of runway shows (Desigual used the own DesigualMag app for 360° views) and the communication before, during and afterwards (such as this editorial article with hyperlinks to original sources) completely.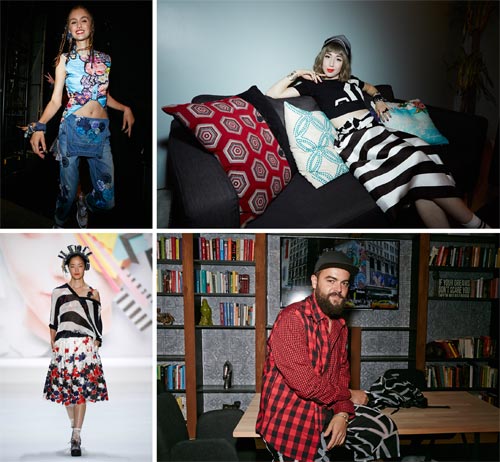 The second point is linked to the first and concerns communication as well as styling. With the new technologies, even the latest professional field in fashion was created. It combines several, changing professions and is often summarized under the term 'Blogger'. Stylist of Desigual's 'Learn' show Misha Janette (sitting on the sofa at the image right) is journalist, publisher of the fashion blog 'Tokyo Fashion Diaries' and stylist; she graduated from Bunka Fashion College in Tokyo. Desigual states in the press release about her work: "Stylist Misha Janette succeeded in creating very urban, modern and fresh looks, proving that it's possible to wear Desigual in very different ways by doing what she does best - breaking the mould with daring looks and combinations." Misha Janette posted from the preparations for the show following photo on Facebook.
Thirdly, the collaboration with artists from other fields than fashion. For the 'Learn' catwalk, Desigual joined forces with Barcelona-based illustrator and artist Lauro Samblás (image above right; sitting on front of a bookshelf) who created collages and streetart sculpture-like objects for the catwalk (on view at the video). On the day of the show, Lauro Samblás posted some of his Desigual collages on Instagram.
Twenty years ago, telecommunication wasn't equipped for live-stream events, social media wasn't available for the masses and blog- or CMS-technology for publishing more easily wasn't installed on common webservers. And perhaps strengthened by the grown democracy of people's voice in media, collaborators like stylists and stage creators - in former times often anonymously working, play important public roles in fashion projects like runway presentations of the mid-2010ies.
Photos provided by Desigual; catwalk image: (C) 2015 Estrop-Barcelona.