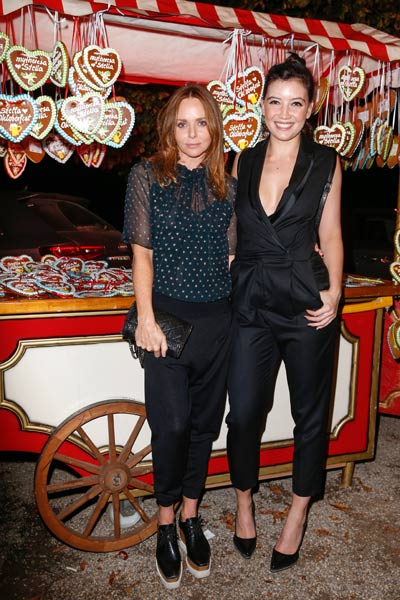 Stella McCartney's Oktoberfest party in Munich
Recently on 18 September 2014, British designer Stella McCartney and mytheresa invited illustrious guests to the Bavarian pre-Oktoberfest party in Munich where the online fashion shop (mytheresa.com belongs to Neiman Marcus Group, offers more than 170 labels like Balenciaga, Saint Laurent...) is headquartered. Stella McCartney and mytheresa's party was the fashionable kickoff event of the Oktoberfest in Munich (20 September - 5 October).
Oktoberfest happens worldwide, but the 181 years old tradition of celebrating with beer and sausages originates from Munich. The image right shows Stella McCartney together with actress, model Daisy Lowe in front of a wagon with Oktoberfest sweets in heart form and made from gingerbread; the hearts on the image carry the writings 'Stella loves Oktoberfest' and 'mytheresa loves Stella'. On occasion of the party, Stella McCartney's new Spring/Summer 2015 collection (focus on contrasting colors, figurative prints of birds, Yin-Yang symbol...) was presented; the image below shows models together with mytheresa co-founder Susanne Botschen in front of one of the typical Oktoberfest entertainments, the carousel.
fig. above right: Stella McCartney and actress, model Daisy Lowe (wears Stella McCartney from mytheresa.com) Below: Mytheresa co-founder Susanne Botschen and models. Photos captured at the mytheresa.com x Stella McCartney pre-Oktoberfest on 18 September 2014 at the St. Emmeramsmühle in Munich, Germany. Photos Franziska Krug/Getty Images for mytheresa.com; (C) 2014 Franziska Krug.