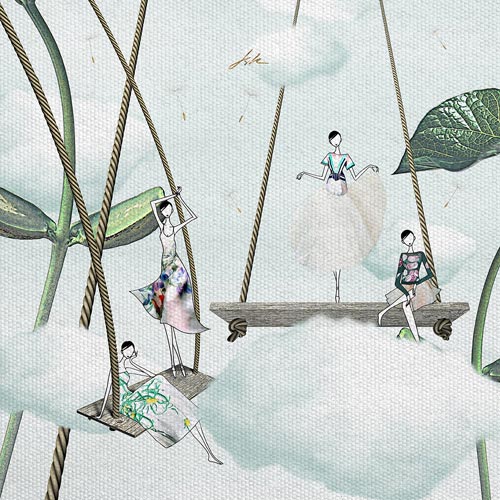 International illustrators are covering Russia Fashion Week
From 22 to 26 October 2014, designers are presenting their new Spring/Summer 2015 collections during Mercedes-Benz Russia Fashion Week in Moscow. MBFWRussia invited three illustrators from US, Russia and Korea for depicting their impressions from the runways and the surrounding in Moscow. JaeSuk Kim (based in Sydney and Seoul) is one of them. His gracile, sunlight flooded sketches are Fashionoffice's favorites.
fig.: Illustration of Alena Akhmadullina SS2015 by JaeSuk Kim. The fashion illustrator/art director's work has convinced already Bloomingdale's, Vogue or Style.com for collaborations. One of the first sketched collection impressions from the MBFWR series concerns the new Spring/Summer 2015 fashion by Alena Akhmadullina (illustration on view above; show on the first day of MBFWR on 22 October). The Saint Petersburg-based designer founded her label in 2001 and is known for telling with each of her seasonal presentations fairytales. The women's wear reaches from day to evening wear made of transparent fabrics with applications and flower prints that appear as if the green from earth is growing up around the body. The idea behind Alena Akhmadullina's SS15 is that beauty (symbolized with various flowers like geranium, poppy, thistle...) can be found everywhere around us. For the show, the designer created special outfits (sweaters with flowers and imitated naked shoulders) for the crew who helped guests to find their seats at the runway.
Check out the work of the two other illustrators on instagram.com/ybryksenkova and instagram.com/travelwritedraw and find your own favorite.
fig.: Images from the Alena Akhmadullina Spring/Summer 2015 show on Day 1 of Mercedes-Benz Fashion Week Russia on 22 October 2014 in Moscow, Russia. Photos by Oleg Nikishin/Getty Images for MBFW Russia. More SS15 images on alenaakhmadullina.com, runway video.