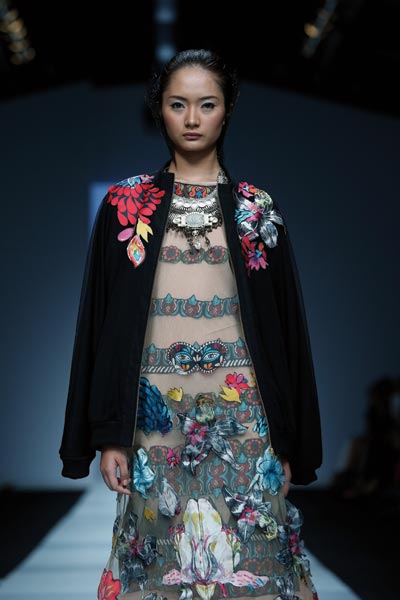 Runway views from Jakarta Fashion Week
Fashionoffice selected three looks from the 3rd day of Jakarta Fashion Week on 3 November 2014 (shows until 7 November, a report from backstage was released on this domain recently).

One of the most impressing collections is the one by Mel Ahyar. It consists only of a few pieces of cocktail, evening dresses and jackets; last mentioned make think of flight blousons - the appeal is reinforced by floral wings on the shoulders. Anti-gravity-like lightness is one of the characteristics of the items that are made of transparent fabrics with embellishments such as flowers and details like the mask at the waist in front of the dress (image right). Mel Ahyar - a graduate from Esmod Jakarta and winner of the Emanuel Ungaro 'Coup de Coeur' award, presented her collection last month on 15 October at the International ESMOD Fashion Show in Berlin. For the fashion show in Jakarta, Mel Ahyar's couture pieces were styled with by Indonesian tradition inspired accessories like jewellery gloves and artistic head wear by Rinaldy A. Yunardi. The live-runway video is already archived on the website of Jakarta Fashion Week; the show of Mel Ahyar starts at 9:30 min.

On view on this page are two other looks from the runway of JFW's 3rd day: The 'Skylines' Spring/Summer 2015 collection by British designer Kitty Joseph seems to reflect the rainbow with gradient neon colors on glossy fabrics, and (image below right) the butterfly-light top with flounces (also called in French couture 'volants') by the Jakarta headquartered fashion brand which carries the indicative name 'Monday to Sunday' for its collections of daily wear for the whole week from the morning, over day, evening (top on this page) and through the night.
fig.: Runway images from Jakarta Fashion Week 2015 at Senayan City on 3 November 2014 in Jakarta. Image above: Cocktail dress in combination with sports wear inspired bomber jacket by Mel Ahyar at the Indonesian Fashion Designer Council fashion show. (Photo by Budi Harianto/Feminagroup) Image below, left: Gradient neon-color dress 'Skylines' Spring/Summer 2015 collection by Kitty Joseph presented at the British Council fashion show. (Photo by Budi Harianto/Feminagroup) Image below, right: Checked volant top from the Spring/Summer 2015 collection by Monday to Sunday at the Indonesia Fashion Forward show presented by the Korean Cultural Center. (Photo by Irvan Arryawan/Feminagroup)