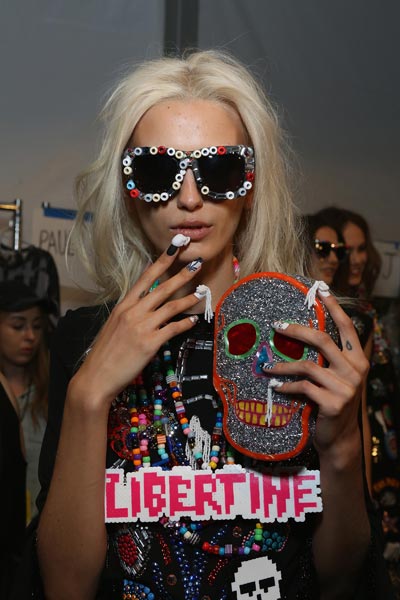 Nail art in sculptural punk-graffiti style at Libertine SS2015
Yesterday on 8 September 2014, Los Angeles-based design label Libertine presented the new Spring/Summer 2015 men's and women's wear at New York Fashion Week (video below). Designer Johnson Hartig collaborated with the team of CND (Creative Nail Design) which transferred the idea of rich-embellishments with found-like-objects (reference to recycled textiles/clothing) and brand logo in street art tag style to the nails.
Libertine designer Johnson Hartig provides insights into the collaboration with the nail care company: "When we first sat down to talk concepts with Jan [CND Co-founder and Style Director Jan Arnold] and the team I expected to have one uniform nail look across the board. It was fantastic when they came back with three concepts that I really loved. The nails were the exclamation point for the collection. CND brought their unparalleled nail artistry to the table and completely nailed it…if you'll pardon the pun."
The medium length almond shaped nails show seed bead tassels, crystals, a hand-sculpted skull with moveable jaw, and letters of the brand's name 'Libertine'. The CND Design Team publishes on cnd.com behind-the-scene views from New York Fashion Week, information about designer collaborations and Trend Predictions for Spring and Summer 2015.
fig.: Nail art by CND (California-based company Creative Nail Design) for Libertine Spring/Summer 2015 on 8 September 2014 during Fashion Week in New York City. Photos by Robin Marchant/Getty Images for CND; (C) 2014 Getty Images.