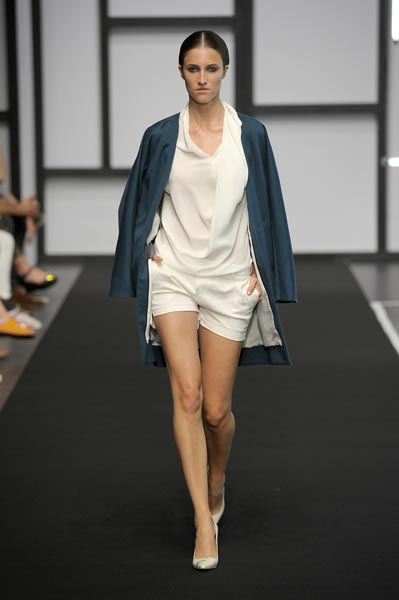 Dawid Tomaszewski's SS15 collection is one of the Berlin Fashion Week highlights
On 9 July 2014, Dawid Tomaszewski presented his Spring/Summer 2015 women's wear collection during Mercedes-Benz Fashion Week in Berlin.
Fashionoffice knows the name of the designer from Peek & Cloppenburg's initiative 'Designer for Tomorrow' where he participated in 2009. Dawid Tomaszewski's (studied in London, Berlin and Poland fashion and art) Spring/Summer 2015 collection 'Suprematism' with draperies that play easily with the rules of physical forces references Russian constuctivism and Bauhaus style. The design of clothing through sculpturing lightly falling fabrics around the body in an artful, elegant and very wearable style attracted already magazines like WWD, Vogue, Elle or Harper's Bazaar to look closer and report about.
Dawid Tomaszewski posts on Facebook links to selected articles (fast checked on 11 July 2014).

Photo by Passigpicture.com (C) Toni Passig.
Video of the Dawid Tomaszewski SS2015 show on 9 July 2014 during Mercedes-Benz Fashion Week at Tischlerei (Studiobühne) of Deutsche Oper Berlin. The beauty look was created by Loni Baur for cosmetics label Catrice (official sponsor of the presentation). Runway music: Intro 'Quite Life' by Dr. Atmo; Show 'Materials' by Nicolas Jaar; 'Veda' by The Acid; 'Leave Me Alone' by Apparat & Ellen Allien; Final 'Your Love Takes Me Higher' by The Beloved.