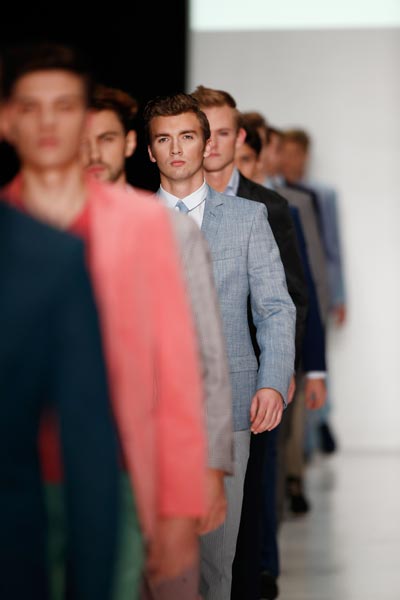 Men's wear 2014 presented in Moscow
On 25 October 2013, the catwalk shows at Mercedes-Benz Fashion Week Russia in Moscow started with the 'Fashion Industry Day' presented by the Ministry of Industry and Trade of the Russian Federation. One of the selected brands was men's wear label Sudar. The collaborative Spring/Summer 2014 collection was styled by Russian designer Leonid Alexeev and consists of a wide range of different styles for men - from comfortable casual wear made of fresh summer colors like muted pink, over business suits in icy blue, to classical blazers, tweed jackets and pants in grey and earthy tones. The photo gallery with views from the show is published on mercedesbenzfashionweek.ru.
fig. from left, below: General Director of Sudar Svetlana Stepanova receives flowers after the Spring/Summer 2014 catwalk presentation (photos right shows models on the runway) of "Sudar" PLC, TM "VENZANO" Styled By "Leonid Alexeev" during Mercedes-Benz Fashion Week Russia on 25 October 2013 in Moscow, Russia. Photos by Andreas Rentz/Getty Images for Mercedes-Benz Fashion Week Russia; (C) 2013 Getty Images.