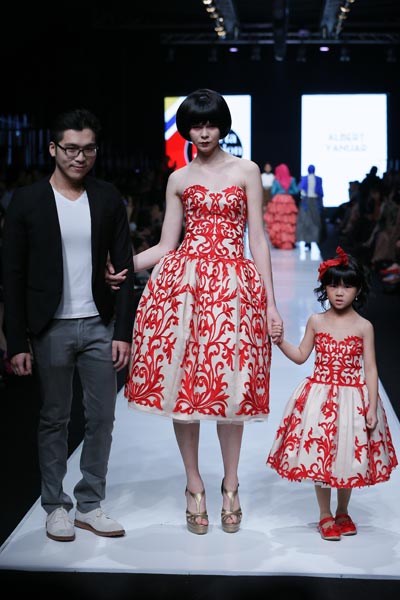 Insights into creative economy Indonesia
...provided by Indonesia Fashion Forward (IFF) on the opening day on 19 October 2013 of the sixth Jakarta Fashion Week (runs until 25 October; schedule).
Albert Yanuar was the first designer of the 3rd show block of emerging Indonesian designers who reflect with their fashion creations the country and its visual culture.
Jakarta Fashion Week 2014 streams live from the fashion tent (catwalk) and the fashion atrium where fashion and beauty labels such as L'Oreal (hair for the fashion show of Hunting Fields) are represented. JFW2014 publishes already (fast checked on 20 October) several videos such as the one of Albert Yanuar SS2014; the collection's theme is 'Morfogene'. At the beginning of the video, several outfits are quasi morphing from cocktail dresses into ball gowns (starts at ca. min 7:30; jakartafashionweek.co.id).
fig.: The images on this page show designer Albert Yanuar (graduated at Esmod Indonesia in 2003; bio) and items from the new collection 'Morfogene' Spring/Summer 2014 on the runway of Indonesia Fashion Forward during Jakarta Fashion Week 2014 at Senayan City on 19 October 2013 in Jakarta. Photos by Irvan Arryawan/Feminagroup.