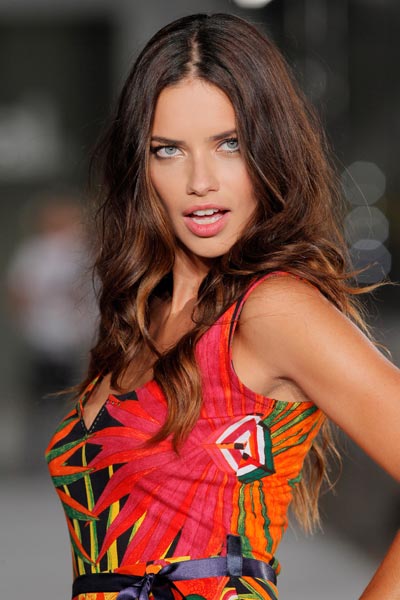 Desigual's flower prints and love notes
"I love to look at you,
I love to taste you,
I love to be lost into you..."
...seen at Desigual's dresses, shirts, t-shirts... for Spring/Summer 2014 in January 2014. The 'For Everybody' collection was presented already last summer in Barcelona (Adriana Lima on the catwalk, photo right) and in September at New York Fashion Week where the Spanish label spread with its Mediterranean lifestyle pure zest for life (video). The collection was developed in collaboration with Christian Lacroix. On occasion of the SS2014 show at New York Fashion Week, Bangkok Post cited Desigual CEO Manel Jadraque who said that the collection is "practically Lacroix".

fig.: Adriana Lima in a colorful dress on the catwalk of Desigual SS2014 in Barcelona (video). The dress is on show in full on the first image from left, below. The psychedelic stars and circles print is named 'Galactic' and makes think of 1960/70ies art which was influenced by nature movements such as practiced by Austrian painter, architect Friedensreich Hundertwasser (some compare his work to Antoni Gaudi). The image in the middle shows a white shirt with flowers, butterflies, doodles of hearts and writings such as 'LOVE' in big letters. Right, a sleeveless t-shirt with rainbow-spiral print at the draped neckline and with handwritten love confession (as cited in the beginning of this article).