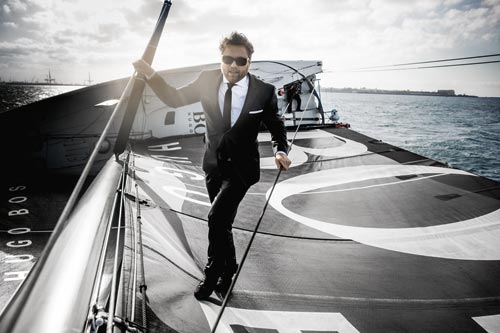 The mast of a sail boat used as catwalk
CNN and GQ wrote already about the stunt by British sailor Alex Thomson; today on 27 March 2014, Fashionoffice provides some information about the glasses which are playing on this 'mast walk' one of the main roles. Well, they are one of the reasons why the daredevil action at all happened.
German fashion label Hugo Boss entitles the special promotion for the water resistant suit and sunglasses 'Mast Walk'. On the photo, Alex Thomson just walks along the 30 metres mast of the high-speed boat. The sailor publishes the video of his stunt with jump into the ocean via alexthomsonracing.com. Thrilling promotion for BOSS' 0606/P/S men's sunglasses which are produced by Safilo (the group makes glasses for Dior, Gucci, Saint Laurent...)! The suit and sunglasses can be shopped on hugoboss.com/mastwalk.






more confashion>