Men's Ready-To-Wear
The fashion film (realised by Simon Eléphant & Maison Martin Margiela) shows the new men's wear SS2012 by Maison Martin Margiela. On 25 June 2011, the new collection was presented on the catwalk at Le Trianon in Paris.
Although the industrial serial production allows less 'art' in fashion, Maison Martin Margiela has found a strategy to bring deepness and three-dimensionality into selected pieces' surface by working with semi/transparent fabrics. The transparency on traditional sportive men's outfits is created by an outer fabric that allows looking through to the lining such as realised in a transparent nylon bomber with striped jersey lining so the viewer gets the impression that the man wears a striped t-shirt.

Transparency on men's and women's sportive pieces
...recently seen in June/July 2011 at Maison Martin Margiela in Paris.
The team of the Paris based Maison Martin Margiela (belongs to the Italian fashion house Diesel) shows two themes - transparency and sport - which can be found in two collections, which differ basically.
Not because they are addressing to different sexes; what's more important is that one of the collections is ready-to-wear (designed for the industrial serial production) and the other is Haute Couture - which means handmade, unique pieces.


Women's Haute Couture

The transparency or 'looking through' theme is succeeded in the couture collection for women by Maison Martin Margiela such as in the oversized male sportive bomber jacket made of nylon and handmade prick stitches.
Prick stitches are normally invisible stitches of a tailor and bring the individual form into a classical men's suit. These prick stitches make the difference to serial production - only a good tailor can bring excellent form into a jacket.
fig.: Bomber (nylon) and long evening skirt (grey cashmere, black duck tape) from the 'Artisanal' FW2011/12 collection by Maison Martin Margiela presented in July 2011.
fig. below: The 'Black leather biker blouson' is partly transparent by offering looking through options as the three different black leather blousons had been cut into stripes before sewn together again. Under the biker jacket you can see a pullover with sportive graphics which come from the material that is used. Funny! The pullover is made of several sports socks (polypropylene, metallic techno) by the label X-SOCKS with the writing 'Speed Metal'.
The 'Artisanal' FW2011/12 collection by Maison Martin Margiela was presented with live music performed by Maxence Syrin at the Hotel La Maison Champs Elysées during the Haute Couture shows on 4 July 2011 in Paris.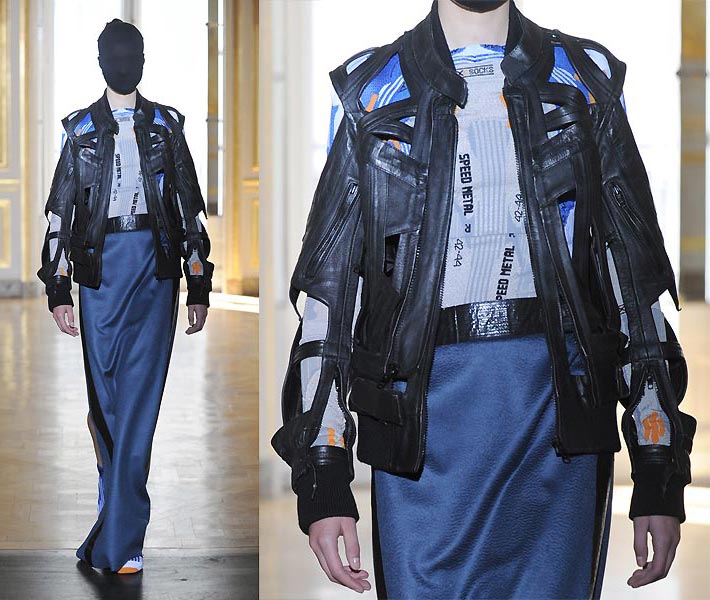 more confashion>