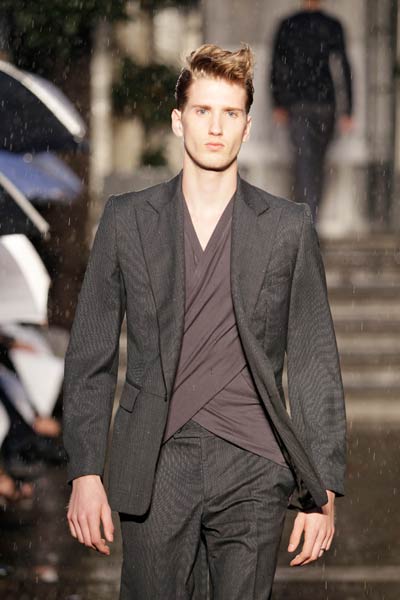 Western tailoring and Asian fluid forms
On 12 July 2011, Jeroen Van Tuyl presented the men's wear collection SS2012 with focus on fluid forms in a natural rain scenery at the Dylan Hotel in Amsterdam (video below).
Each season, Jeroen Van Tuyl approaches men's wear from another, new perspective. For FW2011/12, he followed the idea of 'design hacking' and invented new surfaces for amor alike pieces. (More info about Jeroen Van Tuyl's work provides the article A design hacker and the concept of man's body.)
For SS2012, he continued his research; this time he searched for technical solutions for fluid forms and shapes. The result of his studies are - for example, combinations of Western tailored suits made of classical, partly rough fabrics and Asian inspired fluid cuts for soft knitwear; a fusion of two (fashion) cultures and haptic experiences in one outfit such as you can see on this page.
fig.: Men's wear by Jeroen Van Tuyl, SS2012.; presented at the Dylan Hotel in Amsterdam on 12 July 2011. Photo: (C) Peter Stigter. Model @ Tony Jones.
Video: Jeroen Van Tuyl, SS2012




more confashion>