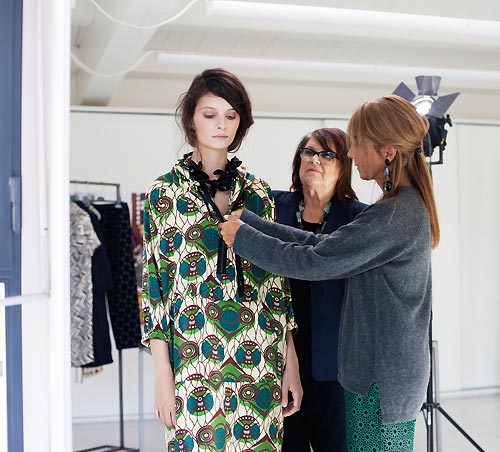 fig. from right: Marni Creative Director/Founder Consuelo Castiglioni and Margareta van den Bosch, Creative Advisor H&M, are standing together while Consuelo Castiglioni styles a colorful dress and tests how a zip as closure could look like. The dress is made of a fabric with allover print showing green, blue, and wooden colored circles or round elements - like from an industrial machine, on nature white. It remembers figurative African textile prints representing every day objects. "It's fantastic to see how Consuelo Castiglioni coordinates her designs, matching new combinations of print and colour, with such incredible craftsmanship behind every piece," says Margareta van den Bosch, Creative Advisor H&M. Photo: Magnus Magnusson.
Artful allover prints on sportive-chic pieces
In late November 2011, H&M announced the new collaboration with the Milan headquartered label Marni. The Italian company was founded 1994 by Consuelo and Gianni Castiglioni. Marni started with a prominent name into the fashion business: in 1995, photographer Mario Testino (known for his work for Vogue) presented the Marni collection. Today, Marni has stores worldwide (since 2006 additionally virtual shops) and receives fan-postings like from Style.com editor Tim Blanks: "I'm a huge Marni fan! She is one of those thinking designers/.../ she aims for a sort of sensuality of the mind...." (Quote from the video below.)
"... I love juxtaposing prints and colours, mixing modern tribal with Bauhaus graphic adding sporty utilitarian elements." introduces Consuelo Castiglioni, Creative Director of Marni, into her work.
Marni stands for artful allover-prints on sporty-chic pieces with focus on easy wearing. The new 'Marni at H&M' spring 2012 collection (clothing, bags, shoes, and accessories for men and women) comes out on 8 March 2012 worldwide.
Video: Margareta van den Bosch, Consuelo Castiglioni, and Tim Blanks (Style.com) about the new 'Marni at H&M' collection.