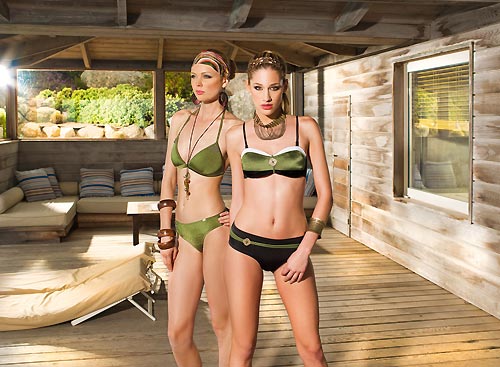 SKINY
spring/summer 2011

Alpine style on a bikini?
In April 2011, the Austrian underwear label Skiny (celebrates this year its 25th anniversary - founded 1986) presented the new 'Aqua'-collection spring/summer 2011. Alongside to colorful zig-zag, psychedelic-geometrical and flower power 60s/70s inspired pieces, Skiny presents one model that evokes an elegant 'Alpine Style'-impression - it's the right one on the image of this page. The shiny moss green bandeau bikini with white detail on the upper side and metallic detail in the middle remembers the traditional female dress 'dirndl' of the European Alps.
fig. left to right: triangle and slip from the 'Shine'-line; 'Club Privée'-bandeau and panty. Photo: Skiny@Huber-Shop.
Video by Skiny from the photo shooting for the Aqua collection spring/summer 2011 on Corsica.