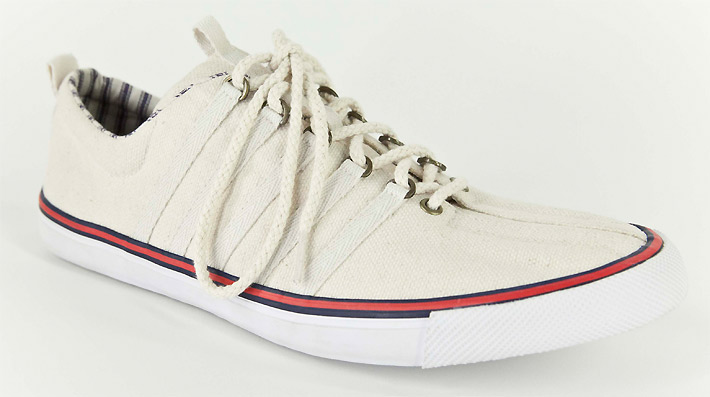 Billy Reid for K-Swiss
spring/summer 2011

Design as a personal diary and its expression through new technologies
In May 2011, US designer Billy Reid's 'Southern gentleman'-style interpretation of the classical canvas sneakers 'Venice Surf & Court' by the California sports wear brand K-Swiss was launched (on this page in 'Washed Natural'). Billy Reid's elegant re-design with a touch of 80s (he was inspired by his own pair of K-Swiss sneakers from the 1980s) gave reason for a closer look at the designer, who has recently received a GQ award and the CFDA/Vogue Fashion Fund. What makes his work special is the very personal mix of vintage, nature and new technologies. The Alabama based camping addicted designer incorporates his personal life and the history of objects into his vintage designs and shops - which look partly like antique stores, while he uses for the expression of his 'personal lifestyle'-designs new online technologies like Last.fm radio, provides insights on his own YouTube video channel, Facebook social media site, the Billy Reid website, etc.
Billy Reid has built a country-vintage style universe. By opening it, cars, music, men's and women's wear, design for Levi's jeans, etc appear, woven into the virtual space of online distribution channels that reach from a website, over a radio, video-channel to social media.
On 20 May, Alabama based Billy Reid was featured on the US email men's magazine 'UrbanDaddy' which reports about stylish pieces from clothing to food & drink and in the category 'driven' about cars. The photo on the 'driven'-article shows Billy Reid close to nature in front of his Jeep Wrangler with the badge of the Alabama Wildlife Federation instead of the registration number. The interview unveils the designer's addiction to nature and that he loves camping with his family and friends driven.urbandaddy.com/2011/05/20/billy-reids-wrangler.

Music-aficionado Billy Reid delivers on the label's website his taste of music, which fits to the country-vintage style and his addiction to new technologies, with the link to Billy Reid's Library Radio on Last.fm with classical and most recent released folk-rock and jazz pieces spiced with electronic beats by The Black Keys, Conor Oberst, The Clash, Herbie Mann, Miles Davis, Cowboy Junkies, Cat Power, Gil Scott-Heron, Moby, My Morning Jacket...
Billy Reid, a specialist in fashion design and merchandising - he studied at the Art Institute in Dallas, worked for Saks Fifth Avenue, Reebok, etc before he founded his label in 1995. Already in 2001, he received the CFDA Perry Ellis award. But the 9/11 tragedy changed his life. He left New York and started in 2004 a new business model - it could be described as a diary of a fashion designer that is reflected in the space of a shop (with a lot of antiques and pieces that transport memories) such as the video below shows.

Since fall 2008, the label Billy Reid is back in New York with a flagship store on Bond Street which was voted Best Men's Store by New York Magazine. In the meanwhile, he distributes his designs in own concept stores in several cities in US. In 2010, he was voted by GQ as the Menswear Designer of the Year and received the CFDA/Vogue Fashion Fund.
Video, posted in January 2011: Portrait of Billy Reid filmed in his hometown Florence in Alabama, where his label is headquartered.
Producer / Director: Dave Anderson Photography; editing and Postproduction: Jonathan Childs; motion Graphics: TJ McCoy; executive Producer: Warwick Sabin. SoLost is an Oxford American production. (c) 2011 The Oxford American Literary Project.




more confashion>