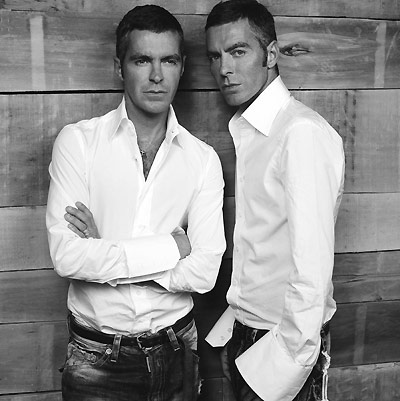 Dsquared2
spring/summer 2009


Eyewear inspired by the 70's hip-hop culture
The self-defined 'born in Canada, made in Italy' brand Dsquared2 by the Canadian twin brothers Dean and Dan Caten presents the debut eyewear collection as a homage to the 70's hip-hop culture, "a decade which brought strong contradictions and big historical change: a melting pot of years merging the movements of the 60's, while pushing the American society towards changes in the 80's".
'Contrast' such as tear-drop::square shapes is the keyword for this collection. The 16 designs for women and men are produced and distributed by the Italian eyewear specialist Marcolin. The Marcolin group holds licenses of Tom Ford, Tod's, Roberto Cavalli, John Galliano, Mont Blanc, Ferrari, Miss Sixty, Replay, Timberland, Kenneth Cole... to name a few.

Stars of the Dsquared2 eyewear campaign are Linda Evangelista, Naomi Campbell and Tyson Beckford.
Video: Dsquared2 spring/summer 2009. Listen to the music! It is amazing. The designers are wellknown for mixing fashion with music and art on the runway. The 70ies/80ies style of the SS09 women's wear collection is underlined with film - especially TV - and disco music of the party people of that time.
Dean and Dan Caten started their business in 1983. In 1991 the designers moved to Italy and launched the own prêt-à-porter men's collection in 1994 in Milan. The label's collections can be described with the words chic and glamorous. Nowadays, the designers spend most of their time in London, but build their collections in Italy: 'Born in Canada, living in London, made in Italy'.
Video: Dean & Dan designed Dsquared2 pieces for Britney Spears' 'Circus' tour. On the video you can see Britney Spears, the designers and their sketches for the costumes. By youtube.com/user/dsquared2channel
On the extensive website you will find the collections (fashion, perfume, eyewear), more about the activities of the designers such as the new radio show 'Style and Stereo' about tastes and fashion-forward sensibilities on Sirius XM Radio; launch date of the show with music from their legendary catwalk presentations is on 5th May 2009... www.dsquared.com.


more confashion>>>


fig.: DQ19 - Dsquared2 women's eyewear spring/summer 2009. The glasses are designed for a woman "...who is decisive in character, sure of herself, and who revels in exaggerations without having to hide behind dark lenses." Even the male eyewear SS09 is strongly influenced by the Seventies; you can see gold jewels inspired by the African-American ghettos and its music, culture, and hip-hop style www.marcolin.com.