13 September 2017

Fashion & beauty scene seen at the opening day of MQ Vienna Fashion Week: beauty doc Eva Wegrostek, singer/actress Fräulein Mai, designer Erika Suess,...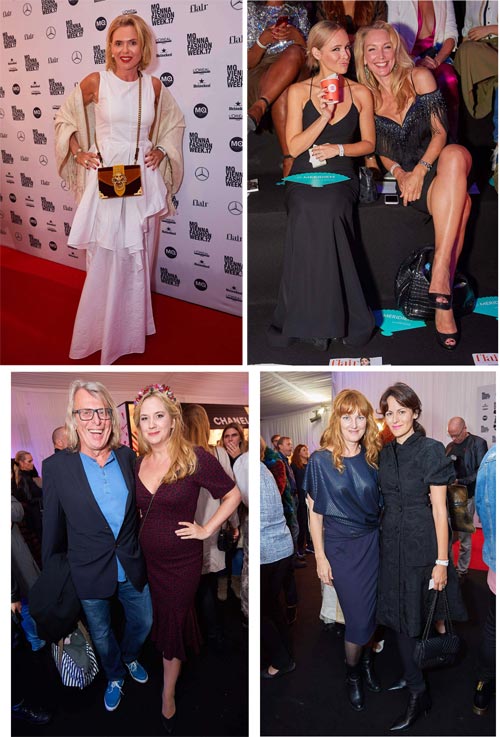 On 11 September, this year's MQ Vienna Fashion Week was opened with the fashion show by New York-based designer Malan Breton in front of around 900 invited guests at the tent at MuseumsQuartier. The opening day is each year the glamorous meeting place of the Viennese fashion and beauty scene.
fig. clockwise: Specialist for anti-aging beauty medicine Dr. Eva Wegrostek in a white long dress. Singer, actress, TV-personality Fräulein Mai (second image, left) in black long dress, couture designer Erika Suess in cocktail dress with fringes and glitter embellishment, Austrian musician, music producer, art director Rudi Nemeczek came together with his spouse miss lillys hats designer Niki Osl (wearing her label's signature flower crown). The fourth image shows the Austrian, Vienna-based designers Michel Mayer and Anelia Peschev; last mentioned presented her label's 'The Shock of Shine' SS2018 collection on the next day on 12 September.
Photos captured on 11 September 2017 by Alexander Tuma; (C) Starpix/Alexander TUMA.
MQ Vienna Fashion Week runs until 17 September. Pieces by fashion labels from the shows are available at the pop-up store which opened today.