25 January 2016

Practical urban sports-couture like a raincoat in Mad Max-survival style presented by Y-3 for Fall/Winter 2016/17
During the last fashion weeks in Milan, Berlin or in Paris, various fashion styles of more or less wearable clothing for men and women premiered on the catwalks. Fashionoffice prefers the more wearable clothes such as the items of the new Y-3 collection FW16/17 by Yohji Yamamoto in collaboration with adidas. Since the start of Y-3 in 2003, the combination of couture and sportswear is signature for the label; it's simply caused by the collaboration partners pre se. For the 'Rebellion' collection, Yohji Yamamoto was inspired by 90ies rave culture and minimalism. Highlights of the 'Rebellion' pieces are the urban sports-boots and outerwear inclusively capes such as the more elegant black one with square leather details (the cape was presented for men and women - image left, below on a female model) or the range of rainwear like the coat with Mad Max-survival appeal in muddy orange and styled with transparent water shield at the hood.
fig.: Views from the Y-3 Fall/Winter 2016/17 catwalk during Paris Fashion Week on 24 January 2016 at the underground space Entrepote Eiffel in Paris. Photos: (C) Monica Feudi.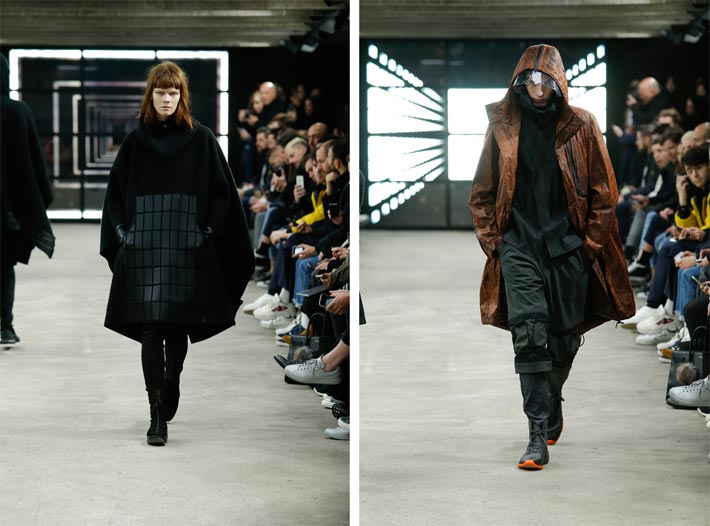 more confashion>