22 February 2016

Ion Fiz FW16/17 premiered on an art catwalk with garden appeal by Cristina Iturrioz during Madrid Fashion Week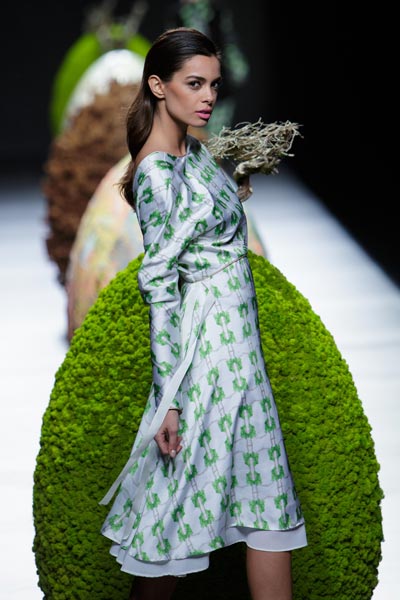 The Ion Fiz FW16/17 catwalk reminded an Easter egg sculpture garden where the models paraded in clothes made of materials like lightweight silks or soft cashmere. The fabrics' artful patterns were created by the artist behind the catwalk scenery Cristina Iturrioz - such as the pattern right on the picture with abstract green leaves which appear by a closer look like fantastic semi-translucent dragon-caterpillars along a light-grey net of branches on white background; or the silky grey dress with graphical pattern (image below right) which consists of cream colored circles built of a pair of human figures which seem to twist in dynamic dance move. Artist Cristina Iturrioz' eggs stand for the positive, future orientated approach to life such as the symbol 'egg' is defined as seed, source and circle of life in many different cultures through the centuries. (Introduction by the artist into the egg theme in general.)
The collection is loaded with meaning! The second story line, is Ion Fiz' inspiration which comes from the movie 'Belle de Jour' by Luis Bunuel (1967) about a woman's sexual fulfillment with Catherine Deneuve in the role 'Severine' (in the film dressed mainly in clothes by Yves Saint Laurent). The enfant terrible of Spanish fashion Ion Fiz re-interpreted the movie's main character with feminine casual-couture garments with stylistic anecdotes of the late 60s/early 70s.
The Ion Fiz FW2016/17 catwalk show was also used for the presentation of collaborative partners such as Mercedes-Benz (Mercedes with special passenger on the runway - Twitter) and Lindt chocolate (7 couture dresses inspired by the chocolate label's 7 'Sweet Wishes' - article).
Mercedes-Benz Fashion Week Madrid runs since 18 until tomorrow 23 February.
fig. clockwise: A model in a white dress with green, grey floral-figurative pattern walks the runway at the Ion Fiz show during Mercedes-Benz Madrid Fashion Week Autumn/Winter 2016/2017 at Ifema on 20 February 2016 in Madrid, Spain. Model in grey-cream dress (pattern shows two human figures in circle dance move) with black-cream striped knit stole and hat (last mentioned created by Biliana Borisova). The image left shows the designer himself, Ion Fiz at the catwalk in Madrid. Photos by Pablo Cuadra/Getty Images; (C) 2016 Pablo Cuadra.