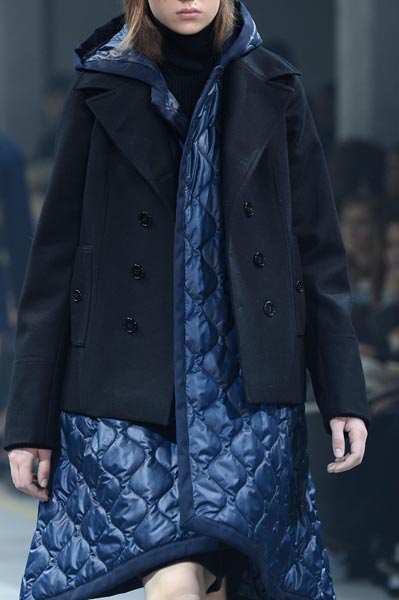 27 February 2016

Andreas Melbostad's creation of a hybrid coat-poncho for Diesel Black Gold FW16
...is one of the most remarkable urban-couture items seen at this season's runways. Diesel Black Gold Fall/Winter 2016 was presented yesterday during Milan Fashion Week. Already in the first hours, several articles were published about Creative Director (since 2012) Andreas Melbostad's first women's wear collection presentation in Milan after the luxury-experimental denim label of Renzo Rosso's group OTB (acronym for 'Only The Brave'; parent company of Martin Margiela, Viktor & Rolf,...) held last seasons' shows in New York. ParisModesTV was one of the first which published a video interview with Andreas Melbostad together with runway views. Diesel Black Gold is even this season true to its signature urban-glam-biker style and such as Andreas Melbostad mentions at the ParisModesTV interview, the label's authentic style was developed further such as through the elaboration of hybrid clothing out of the label's icons by re-proportioning, re-fabricating them for example a quilted nylon blanket coat-poncho underneath maritime wool felt or motor sports leather jacket.(both items on view on this page).
The label uses two main keywords in its press release which describe the inspirations of the collection: one of them is 'nocturnal' (the idea of night inspired the glam and party style of many items), the other is industrial (work wear anecdotes are signature for Diesel Black Gold). The tension between 'decorative - raw' is interpreted with velvet, lurex, sequins in a mix with leather, nylon, denim, felt.
And perhaps another interesting style element at this collection - the cut: Alongside to the focus on the A-line, Diesel Black Gold presents a higher waist emphasized with belts: more looks from the runway.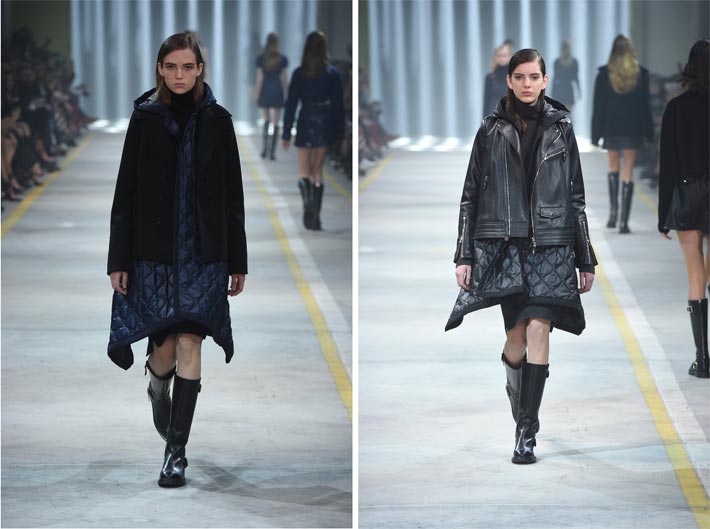 more confashion>