26 August 2015

Launch of Tommy Hilfiger X Rafael Nadal collaboration at a strip-tennis match in New York City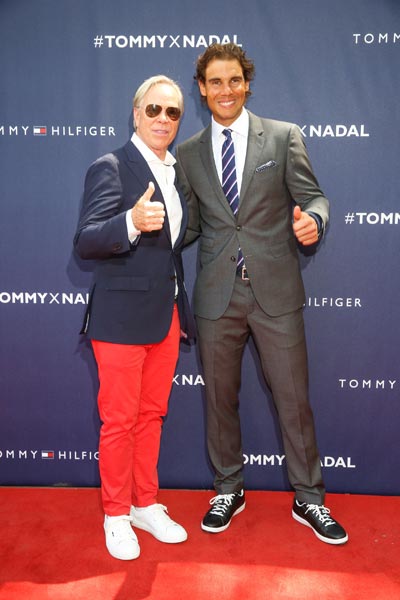 Tommy Hilfiger's new collaboration with tennis champion Rafael Nadal for the campaign Fall 2015 was celebrated yesterday at a strip-tennis match in Bryant Park in New York City. Rafael Nadal, the face of the 'Underwear' collection, the 'Tailored' line, and 'The Bold' fragrance, appeared in 'The Rafael Nadal for Tommy Hilfiger' single-breasted, slim fit suit at the event where he played at a pop-up tournament against models, among them 2015 Sports Illustrated Swimsuit Issue cover model Hannah Davis. In the match against the 14-time Grand Slam winner and Olympic gold medalist, the players removed each time they lost the ball one clothing piece. Main focus of the campaign launch was the presentation of the new Tommy Hilfiger men's and women's underwear. TV-series 'Glee' star Jane Lynch was the 'sport commentator' and opened the game with the words 'Strip-Tennis Everybody!' (video below). More photos of the event can be found on social media hashtag #TommyXNadal such as the one showing top model Constance Jablonski, according to the image description "Scoring a point against Rafael Nadal".
The advertising campaign with pictures shot at Rafael Nadal's hometown Mallorca (Spain) started on the same day globally crossmedia on social media, online, in print, TV, on billboards...
Photo: Tommy Hilfiger and Rafael Nadal on the red carpet for the Fall 2015 campaign launch at the pop-up tennis tournament in Bryant Park, New York City on 25 August 2015.