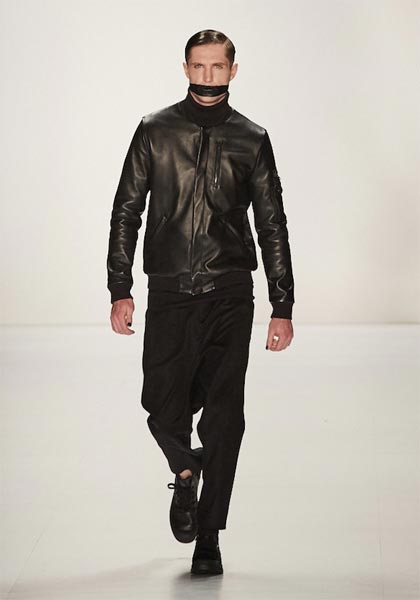 Sopopular FW15/16 at MBFWB, 19 January 2015

Sopopular men's wear FW15/16 'Revolution Noire'
...was presented on the first day of Mercedes-Benz Fashion Week Berlin (19 - 22 January).
Dark notes in blacks and greys, shiny leather-like surfaces and matte wool fabrics in combination such as the slick bomber jacket (image right) in leather optic in combination with wide wool trousers, the transparent rain coat (picture below, right) with turtleneck sweater, and the leather jacket with fur-lining worn to pants in slim jeans cut (image below left) are highlights of the new urban men's wear collection Fall/Winter 2015/16 by Berlin-based label Sopopular. Artistic director is Daniel Blechman who co-founded the label in 2008.
The models' make-up for 'Revolution Noire' shows a black over-painting of the mouth. The dark line appears not so much like a mouth or speech blockade, rather like an anonymizer.

Photos: (C) Joohn Photography.