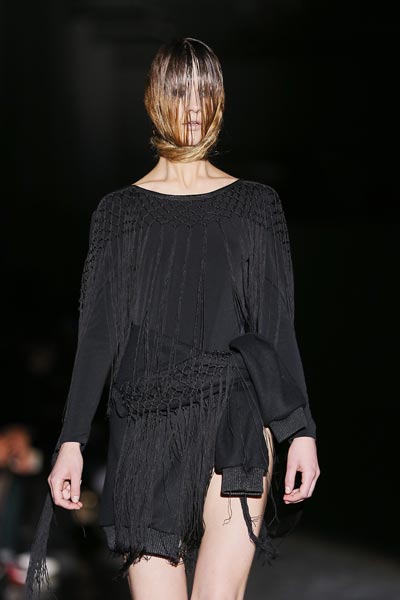 28 March 2015

Three FW15/16 looks from Moscow Fashion Week
Since 26th March, the 30th edition of Fashion Week Russia is running in Moscow. Mercedes-Benz is the title sponsor of the fashion week, the MBFWRussia where new FW2015/16 collections premiere until 31 March. The fashion week started with a presentation by the Russian in London-based label ZDDZ London. The first show was the one by Russia-based Georgian label BEssARION (image right). The Bessarion collection consists of couture-streetwear pieces which were presented in leisure style such as the sweater with fringes-mesh detail on the shoulders and around the neck. The sweater (worn on top and wrapped around the hips) was combined for the catwalk with beach slippers which added a mermaid appeal to the look.
Moscow-based designer Alena Akhmadullina created a colorful collection for FW15/16; many prints on floating light dresses and accessories such as rabbits and foxes on bags (detail images), and coats made of colorful fur-mixes (picture below).
The green leather flap-dress on the image right below is by Kajf&Kajf.
Mercedes-Benz Fashion Week Russia provides a live stream from the shows.
fig. above, right: Runway at the BEssARION show during Mercedes-Benz Fashion Week Russia Autumn/Winter 2015/16 at Manege, Exhibition hall of IX Fashion and Style in Photography International Biennale on 26 March 2015 in Moscow. fig.: below, from left: Runway at the Alena Akhmadullina FW15/16 show during MBFWRussia at Manege on 27 March 2015. Catwalk image of the Kajf&Kajf show FW15/16 at Manege on 27 March 2015. All photos by Oleg Nikishin/Getty Images for MBFW Russia.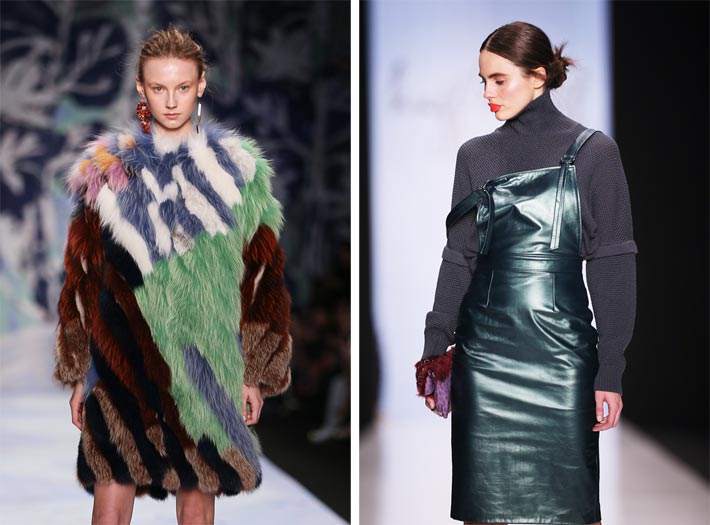 more confashion>