Desigual kicked off Mercedes-Benz Fashion Week Madrid, 7 February 2015

Madrid Fashion Week opened with Desigual's 'YES! - The Kings of Asphalt' FW15/16 collection and provides a live-stream with interviews directly from the catwalks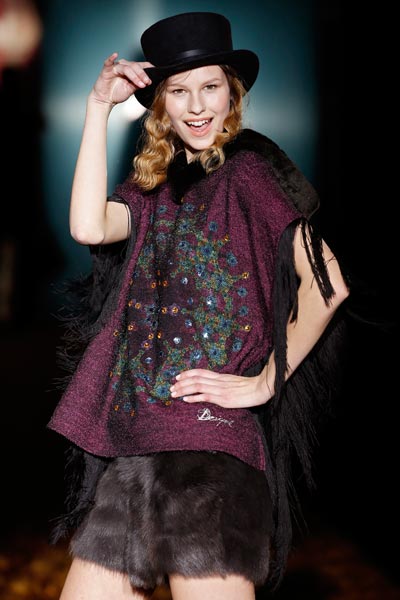 Fashion Weeks have changed in the last ten years. Times are over that the public has to wait days or weeks to receive the latest trend information or insights behind the scenes at international shows.
Mercedes-Benz Fashion Week Madrid (6 to 11 February) uses the medium internet via the own MBFWM TV channel (live-stream from the runways with interviews and walks through the event halls). The latest fashion week in autumn reached via the TV channel 30,000 visitors on computers and mobile devices all over the world. In comparison: around 45.000 buyers, press and invited guests visited the MBFW location in Madrid. The fashion event celebrates with this edition its 30th anniversary (first held in February 1985) and is organized once again (since 1996) by the Spanish trade fair organization IFEMA (Feria de Madrid) which is also one of the sponsors alongside to L'Oréal, Mercedes-Benz, Samsung, etc and supporting partners such as Swarovski. This year's edition was made possible with a budget of 3 million Euros.
The fashion shows started yesterday with the new Desigual Fall/Winter 2015/16 collection which is entitled on the label's blog 'YES! - The Kings of Asphalt' and references an urban and nonconformist lifestyle (video below). On six days until 11 February, 41 Spanish and 3 Portuguese designers will present their FW2015/16 collections on the catwalks. MBFWM TV provides a live-stream (runways, interviews, walks behind the scenes) and publishes archived videos. And yes: romanesque language skills (Spanish) are an advantage.
fig.: Runway image of the Desigual Women's Wear FW2015/16 presentation during Mercedes-Benz Fashion Week Madrid on 6 February 2015. Photo: (C) 2015 Estrop/IFEMA.




more confashion>