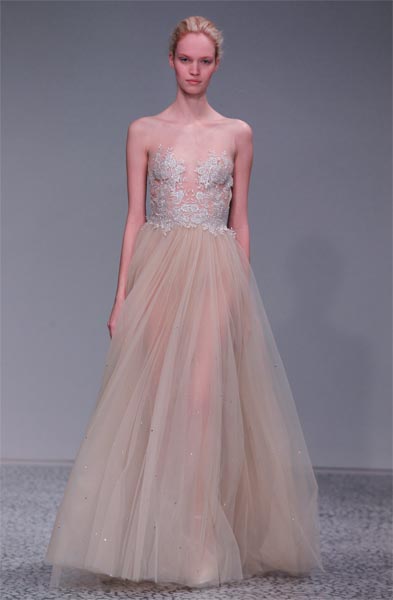 Kaviar Gauche at MBFWBerlin, 22 January 2015

Evening gowns and bridal wear by Kaviar Gauche at MBFWBerlin FW15/16
The dresses by the German design duo Kaviar Gauche appear like fragile body jewellery of fairies; some of the items have an almost unreal appeal such as the construction of metallic-like embroideries on an (on the image right) invisible net. The designers of Kaviar Gauche Alexandra Fischer-Roehler and Johanna Kühl (both studied at Esmod - bio) delivered one of the most interesting shows at Mercedes-Benz Fashion Week Berlin and received mentions by magazines like Glamour (about the glam guests at the front row like actress Heike Makatsch) or Style (knows where the inspiration comes from: snowflakes). But this seems to be not the only inspiration as many of the dresses show also flowers (image below, left). On the label's Facebook page, the designers posted a studio impression of the new collection with a mood image of flowers and on their website, the paintings of Musée d' Orsay are named as inspirational sources. So, even when the dresses look like a temporary, only for moments appearing formation of earthly elements caused by a soft wind breeze, the imaginations they are evoking - from snowflakes to flowers and fairies, are various and boost the fantasy.
Don't miss Kaviar Gauche's latest bridal collection 2015 'Papillon d'Amour' (launched December 2014); the items aren't as daring as the three from the runway.
fig.: Kaviar Gauche runway in front of around 350 guests at Palazzo Italia during Mercedes-Benz Fashion Week Berlin on 21 January 2015. Photos: (C) Dan&Corina Lecca.
Kaviar Gauche collaborated for the presentation of gowns and bridal dresses with cosmetics brand Catrice; the beauty look was created by make-up artist Loni Baur exclusively for the Kaviar Gauche show which was produced by Prag Agency. The metallic flower installation on the runway was designed by Amir Abadi and is on view at the catwalk video or at the images on mbfashionweek.com.