Custo Barcelona FW2015/16 'Shake before Use' fashion show during New York Fashion Week, 16 February 2015

Backstage at Custo Barcelona in New York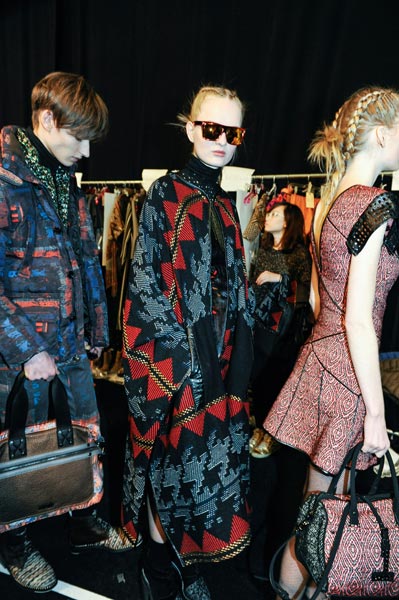 On 15 February 2015, Spanish brand Custo Barcelona presented the new Fall/Winter 2015/16 collection during New York Fashion Week which is according to co-founder Custo Dalmau one of the best places to gain global awareness. Currently, the European brand is on the way to grow in emerging markets like Latin America and South-East Asia, India, China. The brand was founded by Custo Dalmau and his brother 33 years ago in Barcelona and entered the US market in the mid-90s. The medium-price products can be described as colorful fashion with exceptional graphic designs. The FW2015/16 collection shows alongside to geometric black and white tartan patterns, vivid tribal-like designs which make think of Mesoamerican culture (Maya, Aztec) in combination with signature European elements like a hound's-tooth check. The title of the FW2015/16 collection is 'Shake before Use'; it was presented with dance music on the NY runway.
fig. right: The model in the middle wears a comfortable, bright colored (fuchsia, teal) Jacquard-style coat with ethnic appeal and hound's-tooth design elements. The photo was shot backstage at the Custo Barcelona FW2015/16 fashion show on 15 February 2015 at Lincoln Center during New York Fashion Week. Images from the runway are published on mbfashionweek.com. ELLE Espaņa uploaded today a runway video with highlights from the show.
fig. below - from left, clockwise (all images from backstage): Custo Barcelona co-founder and creative director Custo Dalmau and Gala González (according to Wikipedia, Gala González is "considered as the first Spanish fashion blogger"); the next three images show Custo Dalmau at the fitting, at the photo-wall behind the stage and during an interview.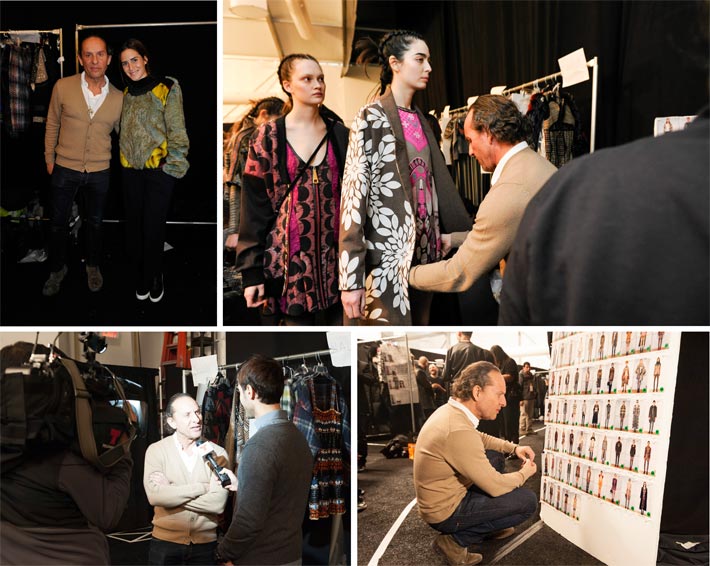 more confashion>