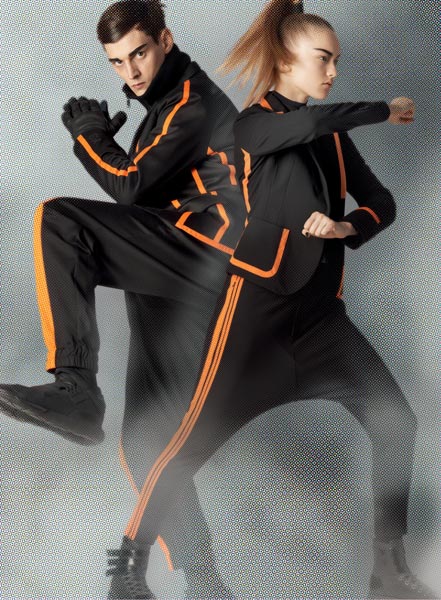 'Everybody come for fighting'
...or was the text 'everybody Kung Fu Fighting' in Carl Douglas' number one music hit of the mid-70ies? The single was used as title song for the German version of the US TV-series 'Kung Fu' which infected a whole generation with the 'fighting for the good and against evil'-virus. Y-3's new campaign for AW14/15 makes not only think of the TV-series, but also of cult cinema such as Bruce Lee's fighting scene in the movie 'Game of Death' or Uma Thurman in Quentin Tarantino's 'Kill Bill' (both, Bruce and Uma in the iconic yellow suits).
In May 2014, Y-3 presented the new martial arts-comic book inspired campaign 'Y-3 Superheroes' which will start to run in stores and media in September 2014.
The images and video were shot by Cedric Buchet with creative direction by Lloyd & Co. Y-3's message of the campaign is that "superheroes might be the world's only remaining hope" to find "justice for all". And Y-3 adds that it's an ultimate fight.
The graphical design of the campaign is inspired by Japanese manga with bold colors. For strengthening the visual impression of the fictional comic character, the illustrators applied screen dots which fade in and out - such as the protagonist could jump out of the screen into reality - any time.
The campaign will be spread via various media; via printed publications, on displays in stores and digitally as video (below) and at the brand's website from September 2014.
Creative Direction: Lloyd & Co.
Photographer: Cedric Buchet
Director of Photography/Editor: Bill Stepanoski
Styling: Jodie Barnes
Hair and Make-Up Artists: Holli Smith and Adrien Pinault
Models: Adam Butcher and Katya Riabinkina
Related article: Y-3 AW14/15 presentation in Paris




more confashion>