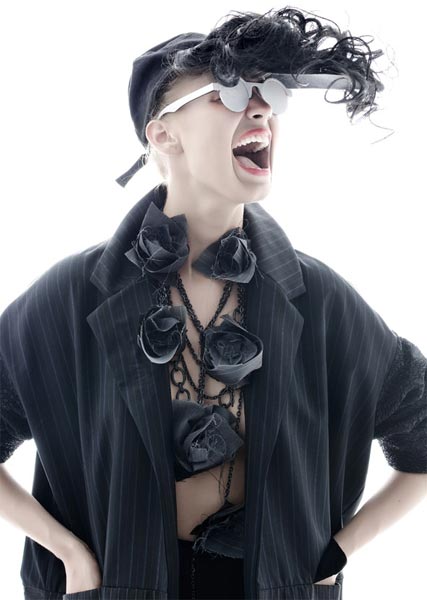 Preview MQ Vienna Fashion Week: art point
The 'fashion coordinates' of MQ Vienna Fashion Week on 11 September 2014 are 'Vienna, Budapest, Moscow'. Design brands which originate from the named cities will show fashion - from street wear to elegant evening dresses.
One of them is urban fashion label art point which will present the Winter collection 2014/15 'Escapism - Black Edition'. Designer Lena Kvadrat founded the label 1993 in Moscow and has distributed the collections via own store in Vienna since around 15 years. In July 2014, art point opened the second Viennese store at Bauernmarkt in the center of the city. One of the signature elements of Lena Kvadrat's interpretation of today's business look are male suit fabrics that are coated with latex and wax.
fig.: The image shows fashion by Vienna-based label art point. Credit: art point. Photo provided on occasion of MQ Vienna Fashion Week 14.
fig. below, from left: Street view at the store windows of the shop art point at Bauernmarkt in Vienna. The shop opened in July 2014. Right: Portrait of label owner Lena Kvadrat. Photos (provided on occasion of the shop opening): (C) Vipin Mayer 2014 (left), 2013 (right). All rights reserved.