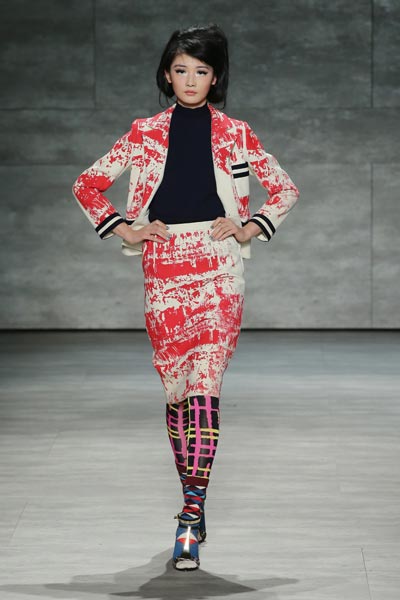 Fashion for the ones with open minds by an eco-friendly designer
On 11 February 2014, Libertine designer Johnson Hartig walked the catwalk dressed in a t-shirt with art-addicted writing 'In Van Gogh We Trust' (photo below). The collection reminds at the first view the wild style of free-minded literature figure Pippi Longstockings who was not best friend with school teachers because she thought that there are more role models possible than the few accepted; and only such minds will bring innovation! "His expression through Libertine led him to great success, revolutionizing the way we think of graphics, deconstruction of the classic, and recycled clothing." is the work of the Libertine designer described on MBFW. Los Angeles-based Johnson Hartig is not only known for his eco-friendly approach but for deriving inspirations from art and collaborations with artists. The writing 'In Van Gogh We Trust' fits quite well to this life and design concept. Style.com reports that the new Libertine Fall 2014 is inspired by British literature, art by Gerhard Richter, snow and frost.
fig. (right): A model walks the Libertine runway (video); (below) designer Johnson Hartig at the Libertine fashion show during Mercedes-Benz Fashion Week Fall 2014 at The Pavilion at Lincoln Center on 11 February 2014 in New York City. Photos by Neilson Barnard/Getty Images for Mercedes-Benz Fashion Week; (C) 2014 Getty Images.