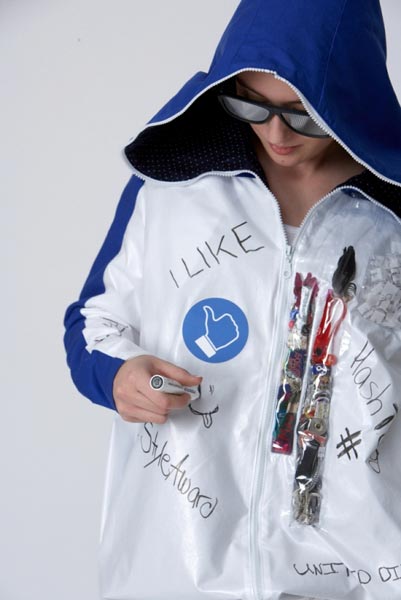 Frankfurt Style Award will be celebrated with a fashion show at the airport
On 26 September 2014, fashion designers from all over the world will present their interpretations of the idea 'United Diversity' at the 'Frankfurt Style Award'-gala at the Frankfurt airport. Currently, the voting for the 'Public Choice Award' runs online.
For the Frankfurt Style Award, designers from around 400 fashion schools, universities from 34 countries were invited to participate and create unique 'United Diversity' pieces in the categories Unisex, Unicult and Uniform.
At the end of August, the voting started online where the best of the 60 designs can be chosen for the 'Public Choice Award' (only the first vote counts). The voting is open since 28 August and will run until 24 September 2014. Three designers with the most 'likes' will come into the next round; the guests at the award gala will select the winner.
fig.: The image shows the design 'Tag Yourself', theme Uniform by Sandra Ritter (Hamburg University of Applied Sciences, DE) for the Frankfurt Style Award 'United Diversity' 2014. The sportswear inspired trousers with hooded jacket invite to be creative by using crayons on the textile of the outfit. The photo was shot during the fitting on 23 August 2014 at the Häuser der Mode Frankfurt Eschborn. Photo: (C) prpkronberg.


more confashion>