Art point's 'Escapism' is about the freedom of expectations
On 11 September 2014, Vienna-based label art point (founded by Lena Kvadrat 1993 in Moscow) presented the Fall/Winter 2014/15 collection in front of Vienna's fashion scene and people from TV and performing arts like Sasa Schwarzjirg and actor Nikolaus Firmkranz at MQ Vienna Fashion Week. The title of the collection is 'Escapism' and references the wish of being free from expectations of how the world has to be. Designer Lena Kvadrat (image left) expresses this freedom as 'Transformer' items which can be modified such as the coat on this page (picture right). The functional zip in the middle of the coat enables the wearer to transform it into a jacket. The after show party happened at the art point store at the Neubaugasse in the city's 7th district; the area is one of the design hot spots of Vienna.
fig. from left: Art point designer Lena Kvadrat; model on the catwalk in 'Transformer' coat of the 'Escapism - Black Edition' FW2014/15 collection, shoes by Airstep; MQ Vienna Fashion Week, 11 September 2014. Photos: (C) Vipin Mayer 2014. All rights reserved.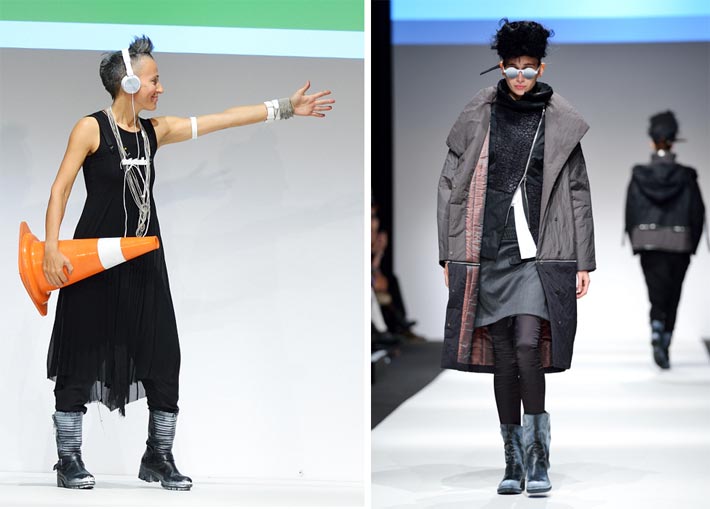 more confashion>