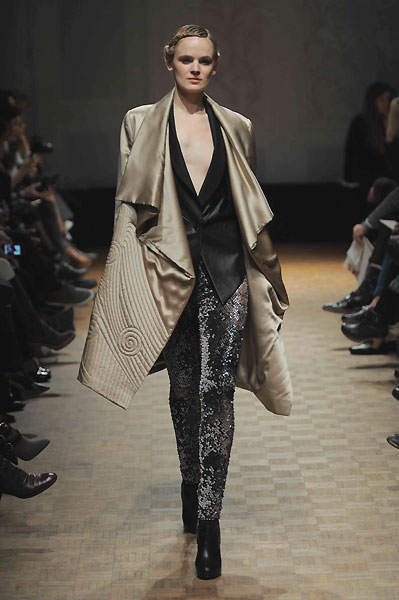 LIE SANG BONG
fall/winter 2011/12
Korea's landscape from a punky-elegant sight
The Korean designer Lie Sang Bong presented his new fall/winter 2011/12 collection on 5 March 2011 at the Hotel Westin Concorde in Paris.
The designer counts to one of the most important Asian designers. He translates the culture of Korea into fashion that is worn by celebrities like Lady Gaga, Beyoncé, Juliette Binoche and compared to the punky-elegant style of Alexander McQueen.
This season, Lie Sang Bong was inspired by the temples on the top of Korean mountains and created "...a collection that invites an air of contemplation along with nature's sense of movement."
fig.: Gold shimmering coat with symbolic lines, earthy satin jacket, icy-watery glittering trousers by Lie Sang Bong FW2011/12. Lie Sang Bong echoes with gold and earthy colors on fabrics like silk and wool the winds, waves, clouds on the mountains. The designer has incorporated symbols of Zen, which can be found on traditional Korean landscape paintings too, and the Korean letters that spell 'friend' as an expression for the collection's sense of peace. (Find out more about Lie Sang Bong in the article 'Korean design on time and gravity'.)

Video: Lie Sang Bong FW2011/12, catwalk presentation on 5 March 2011 at the Hotel Westin Concorde in Paris. The video's soundtrack for the sportive-elegant pieces with punky twist evokes a 'breathing mountains' impression.




more confashion>