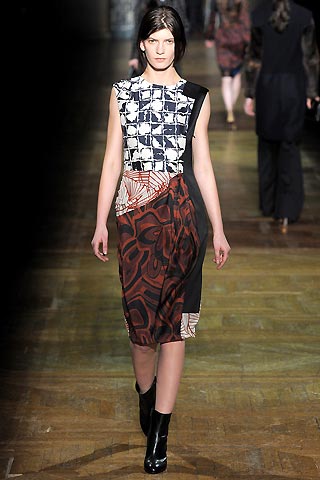 Invitation to 'paint' a designer piece individually with fabrics
From 6 July to 15 September 2011, the ones who are visiting Berlin have the chance to order a customized dress by Dries Van Noten at the shop 'Andreas Murkudis' in the Potsdamer Strasse.
fig.: The dress 'Daya' from the FW2011/12 collection is quasi the 'canvas' for fashionistas who like to interact with the work of an international couturier. The 'Daya'-dress can be 'painted' with 5 from around 30 Dries Van Noten fabrics which had been selected from the designer's archives spanning over the last 12 seasons. It is announced that the customized dresses of the collaborative designer-customer project at the shop 'Andreas Murkudis' in Berlin will be delivered in October 2011.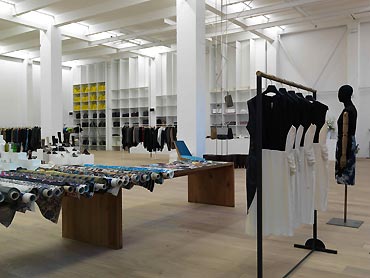 Video-report Dries Van Noten FW2011/12 by Style.com: Tim Blanks introduces to the women's wear collection FW2011/12 by the Belgian designer Dries Van Noten and speaks with him about the inspiring styles of David Bowie's Ziggi Stardust from the 1970s and the early 20th century Ballet Russe dancers Diaghilev and Nijinski. Tim Blanks reports in his accompanying article that the collection is dedicated to a 'liberal woman'. The mix of patterns, volumes, fabrics is the designer's expression for 'spirited freethinking'. The video-report provides views on the makeup, hairstyle, runway and statements by guests of the show during Paris Fashion Week on 2 March 2011.