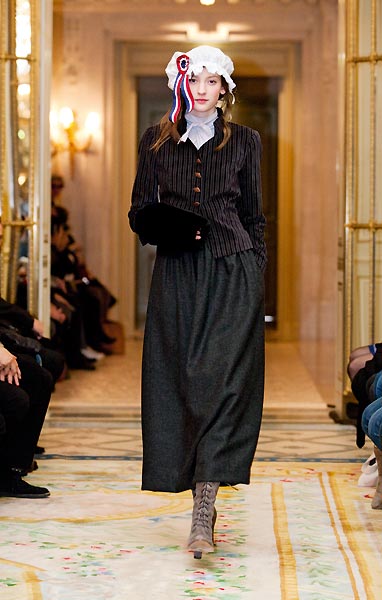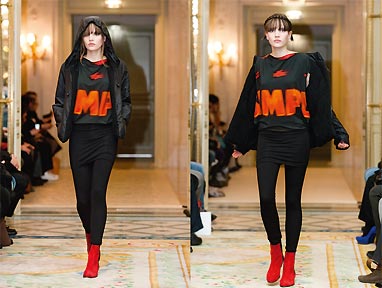 Video from behind the scenes during the presentation of men's wear fall/winter 2011/12 by Agnes B.
AGNES B
fall/winter 2011/12
Designer with political intentions
"I could also work in politics as well," says French designer Agnes B in an interview on occasion of the presentation of the fall/winter 2011/12 collection in Paris. (AFP publishes a video with statements by Agnes B, interviews with actresses like Sophie Marceau and catwalk views.)
The presentation begins with costumes from the late 18th century, the times of the French Revolution and the Directory; such as the blue, white, red rosette on the headwear (image right) was a symbol for the political movement under the motto 'liberté, égalité, fraternité'. Agnes B, whose foundation is politically active in culture, humanity, and the protection of the environment, has transferred the idea of a political system "yet to be built" and reproduced the style with modern cuts and materials as contemporary fashion (image below: on the shirt, Agnes B posts the writing 'SIMPL'). A special highlight of the collection are the skirts and dresses with photograph prints showing cars and landscapes (image below).
The men's collection follows the same idea like the women's collection and derives its inspiration from the historical costumes of the French Revolution (video below).
fig. from above:
Look of the French Revolution (striped velvet jacket, beige cotton shirt with large bow, long Shetland grey skirt)
Sportive interpretation (black hooded jacket, black top with screen printing 'SIMPL' in red, black jersey leggings)
The piece from the photo print series is showing a blue sky and a car (black velvet jacket, black turtle neck wool sweater, photo print 'car' on a jersey dress)